content area
Character Mascots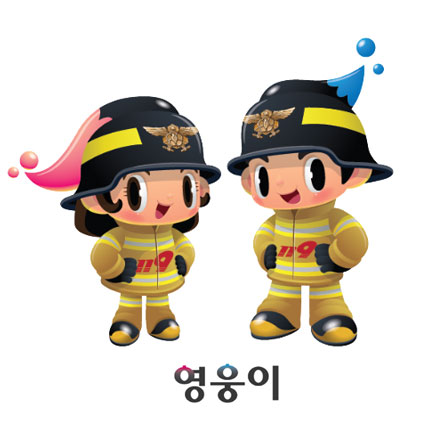 Mascot in Basic Form (collectively, Yeongungi)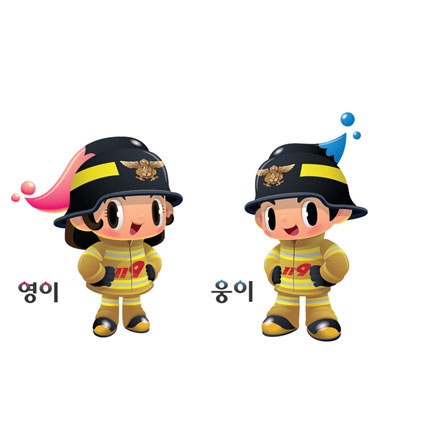 Mascot in Basic Form (Yeongi, Ungi)
Human Mascot

This human mascot wears firefighter turnout gear, firefighter's helmet and safety boots to represent the bravery and dependability exhibited by firefighters as they help people. While friendliness is an important image, we must not forget the sacrifice that these men and women make to protect lives and property from fire, disasters and accidents.
Yeongungi (meaning "hero")

These mascots are collectively called Yeongungi—Yeongi is the female mascot, and Ungi is the male. Their names are easy to say and remember while creating a feeling of friendliness. Yeongungi, or "hero" in Korean, is responsible for safety and sacrifices if necessary for the people.
Download Mascots in Original Files
Big eyes

Represent responsiveness and agility as firefighters are always alert to fire hazards and the need to safeguard people and property

Water Drops over Head

As water is essential to preventing, watching or fighting fire, theses water drops represent agile firefighters.

Confident Posture with Hands on Waist

Shows the firefighter's determination to rescue and protect people in emergencies

Big Feet

Represent the firefighter's responsibility and duty to protect the people from daily hazards related to fire

Big Smile

Portrays the need for firefighters to be friendly, kind, and happy as they serve the people.

119 on the Chest

Symbolizes reliability, as firefighters are people who can be called to help in any emergency

Red Drops over Head

Symbolize the firefighter's sacrifice, and his or her sense of duty and passion to prevent, watch and fight fires, wherever they are and whenever they occur